New Zealand's most mind-blowing infrastructure projects and maintenance initiatives of the past year were honoured at the Civil Contractors New Zealand Hirepool Construction Excellence Awards.
From an 86-metre-long suspension bridge on one of New Zealand's most picturesque cycling and walking trails to tunnelling under Auckland for a section of the high-profile City Rail Link, the award-winning projects all demonstrated the outstanding skill of Aotearoa's civil construction industry.
The awards were presented in front of a crowd of more than 600 people at a black-tie awards dinner hosted at the conclusion of the Civil Contractors New Zealand National Conference at Te Pae Convention Centre in Christchurch.
Civil Contractors New Zealand Chief Executive Alan Pollard said the awards were "well deserved recognition" for the untiring efforts of contractors building the infrastructure that supports economic growth and vibrant communities.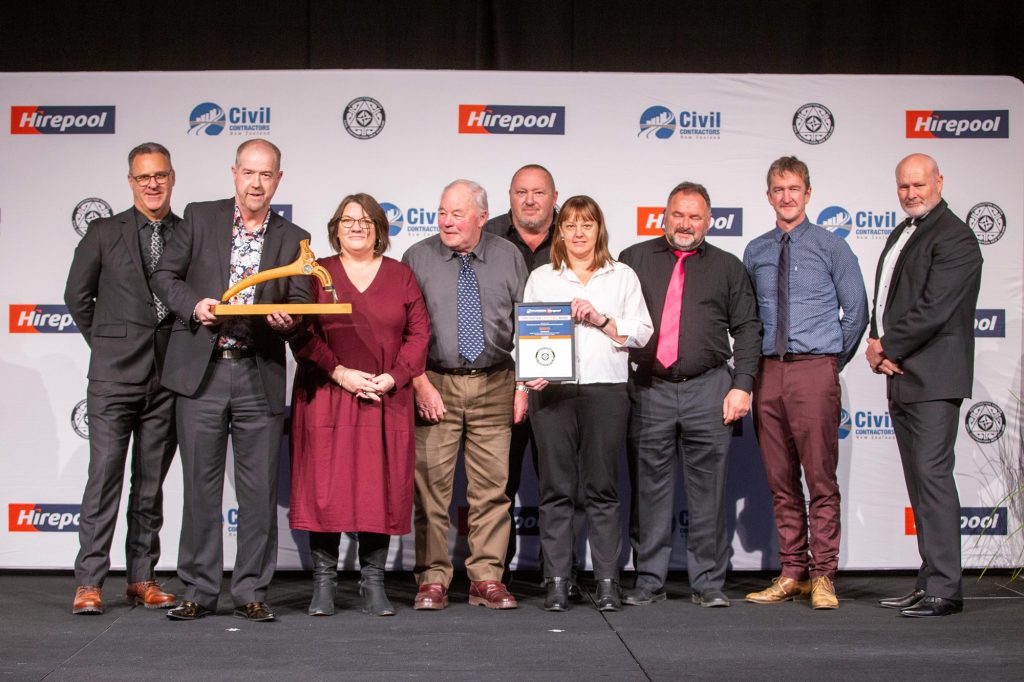 From left to right:
Tony Pike (CCNZ Past President), Dave Wilson (CORDE CEO), Joanne McBride (Waimakariri District Council Roading & Transport Manager), Mike Power (CORDE Operations Manager Unsealed), Duane Clark (CORDE Operations Manager Sealed), Cadie Terrell (CORDE Contract Administrator), Carl Grabowski (Waimakariri District Council Roading Operations Manager), Brendon Ryder (CORDE GM Road Maintenance), Gary Richardson (Hirepool General Manager – Sales & Marketing).
The CCNZ Hirepool Construction Excellence Awards also included an award for excellence in the maintenance and management of assets. CORDE took home top spot in this category for the outstanding performance on the Waimakariri Road Maintenance Contract.
Our collaborative relationship with the Waimakariri District Council has been built over the last 27 years and is at the centre of how we work in the district. We are very proud of our local and loyal team who live and breathe the district delivering the best possible service to the great people of the Waimakariri region and its visitors.
The judges noted our strong field knowledge and use of technology, which allows the Waimakariri District Council to access real time data on road maintenance across the network. They also noted CORDE's ability to allocate its maintenance efforts to where they were most needed, and its commitment to staff training, and its ongoing efforts to reduce its carbon footprint.
We are honoured to receive the Toki Paraihe, presented to award winners. The Toki Paraihe is a symbol of chiefly craftsmanship that has been presented to winners from across the civil and infrastructure construction industry in the CCNZ Hirepool Construction Excellence Awards since 2005. Hear the story and meaning behind the Toki Paraihe here.
Watch the full presentation of the award here.